Royal Engineers
In 1969 I joined the Royal Engineers.The next 9 years and 3 months changed my life some say for the better.
Service Record:
Oct 69-March 70.
69/11 Training party,3 TRRE Cove.
Mar 70-Oct 73.
HQ Sqn, 23 Engineer Regt,Osnabruck.
Oct 73-June 74.
33 Field Squadron,Longmoor.
June74-Dec 75.
33 Ind Field Squadron,Antrim.
Jan 75-1977.
30 Field Squadron,Hohne.
1977-Dec 78
30 Field Squdron,Iserlohn.
30 years in March 2002 since my 1st "Op-Banner Tour"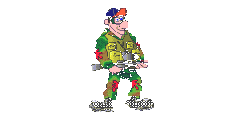 Looking For Old Mates
I would like to make contact with anybody who served with me in the Royal Engineers or remembers me.
HQ SQUADRON 23 ENGINEER REGIMENT
I am in contact with Ian McPherson,Bill "Dickie" Dickinson,George Penman,Jimmy Learmont and Paul Monk(RIP 15/3/12)
"DIRTY" 30 FIELD SQUADRON
Wully Fulton,Tufty Turner,Bob Twigg,Geordie Craddock,Steve Preece,Cab Burton,Danny Webb,Geordie Forrest,Alex Baines,Alan(Archie)Moore,Dave Hilsdon,Steve Wright,Steve Haddesley,Steve Nugent,Mac Goldie,John Jagus,Bob Beer,Neil Cowie,David Lock,Kev Cowling,Niel Mayfield,Andy "Jock" Nelson,"Plank" Wood,Ben Bullock, Ray Capewell,Sammy Hosking,Steve Novak,Pete "Chimp" Fowles,Taff Thomas (sigs Cpl) and Alex "Al" Bainbridge.

ROLL OF HONOUR


Sadley I Have been informed that the Following members of 30 Sqn are no longer with us,S/Sgt Terry Stuart,S/sgt George Marrotti,WO11 Brian Barnsley, Sapper "Smelly" Smale,Sapper Dave Owen,Sapper Pete Burnett, Tam Anderson and Sapper "Boff" Bradley.
HQ SQN MEMBERS UPDATE
GEORGE PENMAN
Now retired ear Stirling
PAUL MONK
Works for Local Goverment in the Southampton area.Sadly Paul passed away on 15th March 2012
JIM LEARMOUNT
Lives in Glasgow and works for DC Thompson printing newspapers.
BILL "Dickie" DICKINSON
Dickie is a aircraft fitter living and working in the Isle of Man
TALBOT "JIM" READ
Jim completed 22 years ending up as a WO1,He lives in Chatham and is currently a civillian instructor at RSME.
30 SQN MEMBERS UPDATE
LT DICK WINFIELD
Of "A bridge to short Fame"
Was OC of 2 FLD SUP SQN in the Late 80s and was last seen in Ripon about 8 years ago.
L/CPL LEN MATTEWS
Went on to be commisioned,He was a Captain when last seen a few years ago.It is unknown where Len is now.From more recent information Len was De-mobbed in 1998/9 and his daughter is married to a serving Sapper in Hamlin (DEC02)
S/SGT MICK OPIE
Also ended up with a commision,He retired a few years ago as a Captian.He lives on the site of the old Southwood Camp,Cove and works for the army at Deepcut Barracks,Pirbright.Mick wishes to remain ingognito but I am informed visits this site.
CPL "SCOUSE" MORETON
From recent information Scouse is still with us and now lives in Austrailia.
STAN HOWARTH
Last seen in the Bristol as a serving Police Officer in the 90s.
WULLIE FULTON
Now retired and living in Spain.
BOB TWIGG
Now a Distribution Manager and living in Harrogate
ARCHIE MOORE,DAVE HILSDON,JOHN JAGUS,SAMMY HOSKING AND STEVE WRIGHT
Are all living and working in Germany,Steve is in Iserlohn,Archie now lives in Celle and Dave in Weitze,John Jagus is living in Garssen nr Celle.Sammy is now retired with serious back problems and lives in Offen.
ALEX BAINES
Was a Fireman at the Albert Hall,then a shift manager for ASDA at Dartford.He is now retired and lives in Spain
KEV COWLING
Ran a bar in Malta now lives and works in London.
STEVE PREECE
Lives in Leeds and is a HGV Driver
DANNY WEBB
Is a Programes Manager for the long term unemployed and lives near Rotherham.
TUFTY TURNER
is a Driving instructor for the Army and lives in Hull.
GEORDIE FORREST
Works for the railways and lives in Seaham
MAC GOLDIE
Is Living and working as a painter in the Tamworth area.
NEIL COWIE
Is alive and kicking in Bourne in Linconshire.
CAB BURTON
Is living in Kent and runs a Web Hosting Company with his partner
ANDY "JOCK" NELSON
Is living in the Dumfries and works for Glasgow university
RAB McSWEENY
Last seen in Edinburgh driving a Bin lorry in 1998
GERRY O'HANLON
Was Living in Edinbrugh
NIEL MAYFIELD
Now living in the Nottingham area
RAY CAPEWELL
Works as a lighting engineer at the Gailey Depot near Penkeridge and lives in Uttoxeter
JOHN BRUMFIELD
Is living in Blackpool and works as a Bus driver
PAUL "KOJAK" NEEDHAM
Made it to the rank of SGT,I understand he left the army after he got married and lives in the Mansfield Area.
JOHN DARGRAVEL
John is still serving (2003) and is a Major in Canada
IAN COUPELAND
Ian lives in the Gosport area and runs Action bikes in Fareham.
MAJOR DOBBIE
Made the rank of Brigadier and is now retired.He is in contact with the reformed 30 Sqn.
BEN BULLOCK awaiting Ben to send me details.
SSM NORMAN BRIDGET is living in the Manchester.
Please visit my Links Page to find other R.E. related sites.
I would also like to hear of any sites that are associated with the Royal Engineers.Please e-mail me with site addresses.